(Wurzburg, Germany)
The last day my parents were here, we wanted to go on the Rhein River Cruise. That was something my mom wanted to do the last time they toured through Germany when my dad was here with his college performing group. But, alas, they weren't able to take the beautiful cruise to see a slew of castles from a whole different point of view. So, that was what we planned for their last day so my mom could really experience it.
Unfortunately, that morning as I was asking some of my friends for a few last details, one of them mentioned it might close for the winter in early October. Sure enough, it did. October 3rd was the last tour. I was pretty bummed. Our plans had been thwarted so many times… first with the Kensington Palace, and then Neuschwanstein Castle, both things my mom really had her heart set on. And now the River Cruise. I knew she regretted not being able to go last time so I didn't know what to do that would make up for it (let me mention that she never complained, but I do know she was a little disappointed with the things we hadn't been able to do).
There is always SO MUCH to do here in Germany that is pretty amazing, but we also had time working against us. "Trier" (the oldest German city) was 2 1/2 hours away and needed more than a day to tour. My parents had already been to "Rothenburg." Then I remembered "Wurzburg." My friend, Lindsey, used to live there (there was a military base) and has always tried to get people to go. I HAD.NO.IDEA.WHAT.SHE.WAS.TALKING.ABOUT.AND.SERIOUSLY.WISH.I.HAD.SOONER.
The first place we visited was the Palace called "Residenz Wurzburg". My mom and I thought we were just visiting a tiny palace, similar to the Linderhof, until we drove around the corner and the trees opened up to the most beautiful view. My mom actually squealed and I had a look of shock on my face. I'm not exaggerating when I say that this is the most beautiful palace I have yet to see (I haven't been to Versailles yet).
I think I was in such awe that I totally forgot to take pictures. So I had to "borrow" some from the internet just so you could get an idea of the beauty and magnitude of this beautiful place. And the pictures with my parents in it, are taken with a camera phone.
Below is the "Grand Staircase". Lindsey mentioned it's one of the 12 Architectural Design Wonders of the World, but I haven't looked it up to verify. I wouldn't be surprised if it was. It truly took my breath away. I don't know much about the history of any of it because I didn't learn before I went but I'm sure there is so much to learn. In time, I will research it (because my curiosity usually gets the best of me) but for now I want to let the images and impressions I formed sit for awhile.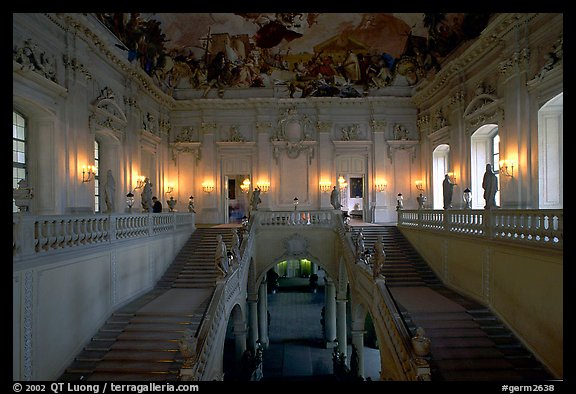 It was amazing to learn that this city was almost completely ruined in the war. Inside the palace, they show pictures of the reconstruction efforts, and detail what the owners had taken down in anticipation of the ruin and destruction of the war. There were also pictures of the city as a whole after the war… there are no words for what it looked like after so many bombings. I had never grasped what the history books meant when they talked about the devastation of the war. Seeing these pictures really brought to light their meaning and I have a little bit of a better understanding of the gravity of what went on.
This is the Grand Ballroom… breathtaking, I tell you.
After the Residenz, we took a quick walking tour through the center of town. It was no surprise that we stopped by a lot of churches. Two things Lindsey also told tell me was that this was the city of 1,000 steeples (is that right, Linds?) and Madonnas. This is true. We saw churches and Madonna statues adorning buildings everywhere.
One thing Germany is famous for is its Christmas Markts. Almost every town usually has some sort of festival in their town square... the smaller towns usually last for one a weekend or two. But the bigger towns start around the 3rd week of November and last through Christmas. I'll post more about these later, pictures, etc. to give you an idea of what they are, but know that they are super fun. Booths and booths and booths of handmade items, some old-fashioned, some modern.
I knew my mom would have really loved going to a Christmas Markt but the Markets wouldn't be starting for a few weeks. Imagine my surprise, then, that Wurzburg was having a festival in their town square (similar to what most towns do during the year) but some of the Christmas Markt stands were already starting to sell things, including wooden carvings, aromatherapy, children's wooden toys and my favorite, the glass memorabilia mugs filled with Kinderpunch to drink. Most of the adults drink the alcoholic version (hot wine) but I like the stuff for kids. It's like really strong Hawaiian punch, but warm.
My mom loved the architecture on this building so I made sure I took a picture of her in front of it.
We were really hungry, but I really wanted to find a typical German stand to eat. We were almost out of luck until right when we were heading to McDonald's (sad face), we turned the corner to find a German eating place, and a booth of sweets and hot wine (see the picture below). For food, we shared a schnitzel burger (hot breaded schnitzel on a roll), a beef sandwich (similar to an American hamburger), pommes frites (french fries, but WAY better than American's), and something else I didn't know what to call it (Kerstin… a little help?) but it was little spaetzel noodle with onions and sauerkraut, sausage and some sort of sauce on it. That was my dad's favorite! Score! So much better than McDonald's (although I have to say Germany's McDonald's has such better food).
Then we got a chocolate covered strawberry skewer (6 strawberries on a skewer, then the whole thing is dipped in chocolate) and some kinderpunch.
This was such a great way to end their trip. We saw so much more than I could take pictures of… the River Bridge, the fortress on the hill, and the German grocery store my parents explored through. I loved that they wanted to get to know the culture of wherever we went. And they truly got a German experience coming to Wurzburg. It was fate that our plans didn't work out and we were able to visit this breathtaking city. This is a definite stop to bring future guests, and I will for sure be returning with Brian and the kids.